Oil & Gas—ChlorWell System
Water Solutions was a pioneer in Chorine Dioxide treatments in the oilfield. Following the rise of hydraulic fracturing, Water Solutions developed a custom-built treatment system designed for the challenging properties of flowback and produced wastewater.
That system is our very own ChlorWell Treatment unit, and is fit to help maximize the effectiveness of a Saltwater Disposal well (SWD). Here are a few of the proven benefits of an SWD treatment system using ClO2:
Lower Injection Pressures
ClO2 is a natural oxidizer, converting harmful dissolved solids into suspended solids. The result is less harmful constituents entering the formation, which can increase overall injection volumes.
ChlorWell can reduce injection pressures 30-50%. In the Marcellus/Utica region, injection pressures can reach 2,500 psi. A pressure reduction of that size could reduce energy operational expenses considerably.

Increased Injection Volumes
More injection volume means more barrels of water you can charge. Case studies show that ClO2 can significantly improve injection volumes, as a result of lower injection pressures. In some of the best cases, injection volumes nearly doubled.
Continous Well Treatment
ClO2 keeps your well formation consistently healthy, eliminating the need for costly acid jobs, which some well operators have to order annually, or even quarterly.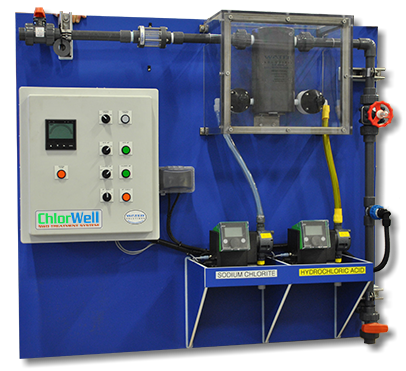 Greater Oil Separation
Oil cut is a major revenue component of an SWD, but even a well-monitored gun barrel can leave hundreds of barrels of oil heading downhole.
ClO2 can help separate dissolved oil, described as "Total Petroleum Hydrocarbons (TPH)," by as much as 95%.
In some cases, TPH was 3,500 mg/L. For a 10,000 BBL/Day Facility, that's a recovery of 25 BBLs of oil per day.
Biocide
Even for an SWD, bacteria can wreak havoc on your facility. Acid-producing bacteria can damage your wellbore and prematurely age your components. Sulfate-reducing bacteria creates a biofilm that can clog your formation, leading to more increased injection pressures.
ClO2 is an EPA-approved, "green" biocide. It has a short half-life, and a guaranteed efficiency of 99.999%. A simple water test can show if any residual is left in the water, meaning any living organisms are dead.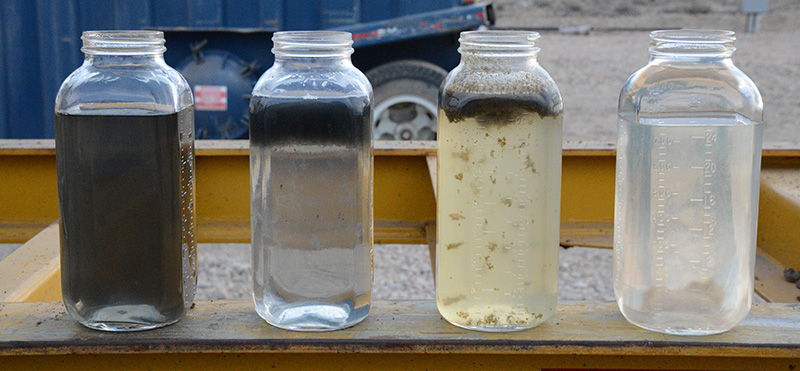 The Water Solutions difference
ChlorWell is designed specifically for SWDs. Some of the innovations we have added for this application include:
Flow-pacing—ClO

2

is injected only when your SWD is taking water
ORP Testing—Sensors monitor ClO

2

efficacy and treat only the amount that is needed
Remote monitoring—All sensors can be accessed remotely for 24/7 monitoring of performance
Automatic shutdown—Any errors result in complete and safe shutdown of equipment
Let Water Solutions put its expertise to work for you.